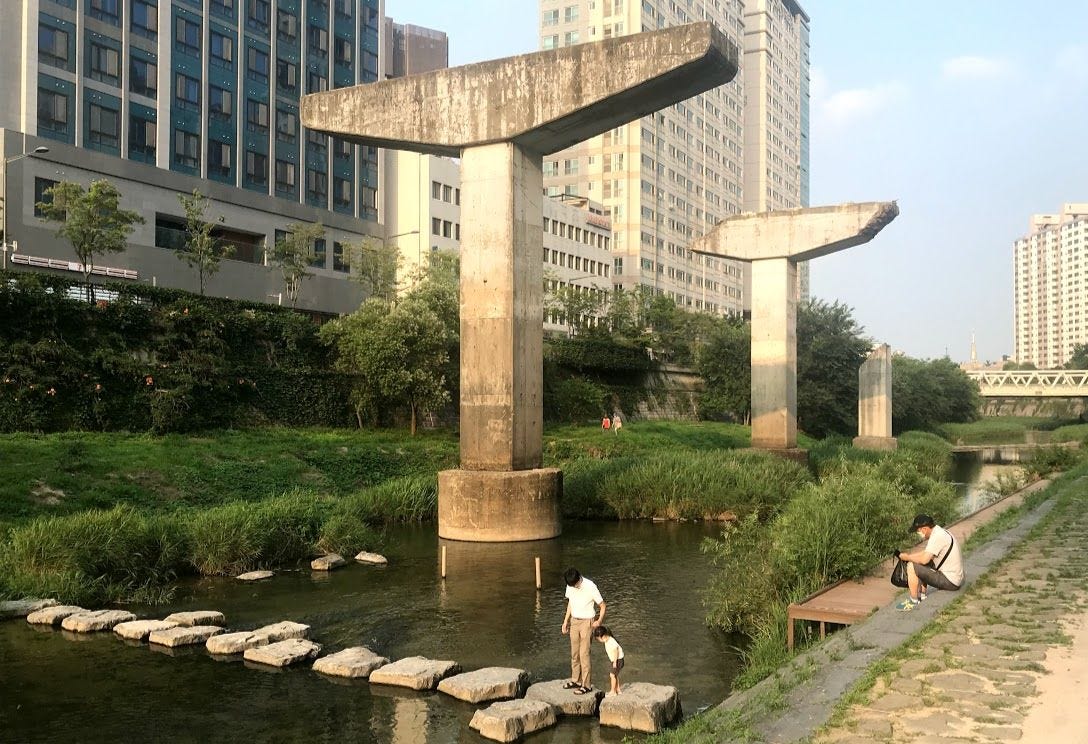 When it opened in 1968, the Cheonggyechon Expressway stood as a symbol of South Korea's rapid economic development. After the Korean War, the country's military dictatorship drained a river that ran east to west across Seoul, replacing it with four lanes of elevated blacktop. In the 1970s and 1980s, the highway sped tens of thousands of commuters lengthwise across the city every day.
In 2003, the democratic Sixth Republic began dismantling the expressway and pumping water back into the tributary, a major civic works project that took two years to complete. Now there's a seven-mile urban greenspace in the heart of the city. Three exposed pillars near Biodanggyo bridge, in a semi-residential area on Seoul's west side, are all that remains today. The Cheonggyechon Overpass Retention Monument is a collision of past and present in one frame, a good place to just go think about things for a few spare hours. Things like, what would this post-postmodern world look like if we were to scratch away its outer surface? Spoiler alert: it's quite green and beautiful.
One of the side effects of the freeway's demolition was that another Third Republic construction project became isolated from the ebb and flow of the city. Jangchung Gymnasium, completed in 1963, became difficult to drive to and park at, and it fell into disuse and decay in the aughts. Jangchung was a pivotal locale in the development of basketball in South Korea and Asia in general; the great Bill Russell once said of it, "This monument is going to be built as a symbol."
But that's a story for another time. This one is about leaving monuments behind, to point the way forward.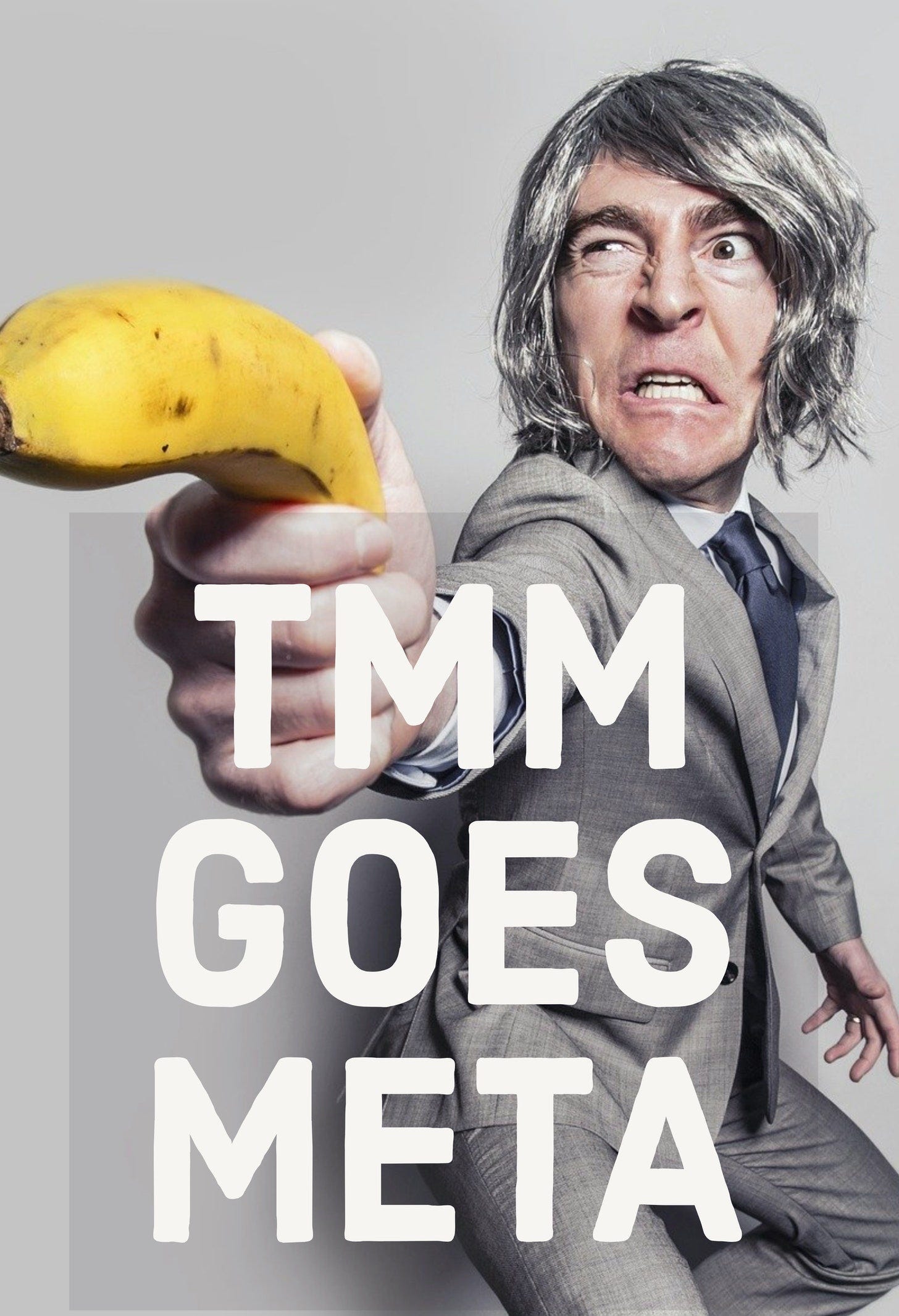 After 50 articles, this is our final transmission in Substack newsletter form. It is not our final final transmission; there are 3,500 words about the history of the defunct American Basketball League coming your way very soon, within hours of this post's timestamp.
If you're receiving our posts by email, there's nothing to do. Your email address has been successfully migrated over to the new setup. From this day forward, we will be hosting TMM completely by ourselves—like we always did in the past—and this mailing list will function as a simple #youareinformed notification list.
Emails will include the first three paragraphs of every new post, followed by a link to our website. There will be a clear indication of the article's word count and the number of minutes it'll take to read, so you can make an instant informed decision about whether or not you have the time. Or, if your mood about us changes, you can unsubscribe in one swift click, unlike the maze of screens that Substack puts you through.
We will always appreciate Substack for being there as we ramped back up into the longform writing game, but TMM 2.0 has run into a ton of technical roadblocks. We're aware that a lot of you are receiving mangled, spamboxed and non-existent posts; this system is not designed to handle 7,500 word interviews with tons of GIFs and YouTube embeds. We received a note through The Form™ last week from a cheesed-off Bally Club 2021 member complaining that we weren't writing anything, and therefore stealing their money.
Nah bruh, we're writing too much. In six months, we've typed 125,000 words into this Substack newsletter, which is twice the length of the manuscript for "David & Goliath: A Love Story" (which will finally be published whenever this global pandemic is over). So this whole thing has been lowkey awkward. Can you think of any time in internet history when people wanted to spend more time in Outlook or Gmail, scrolling through endless emails? Hey Amazon, here's 15 bucks for "Where the Crawdads Sing"… but could you send it as an attachment?
And after fits and starts and "umm, how about this? or this?" experimentation, after a disastrous attempt to subsidize TMM with merchandise sales, after having our Twitter account suspended by Robots four times, this is where we are. You've made it clear that this is what you want from us. No problem with that; writing is what we're best at, and we're a lot better at this than we were 10 years ago. We told you that we'd increase the word count in step with your support, and whenever we write a long article about WAC integration or the Siena measles outbreak or the 1940 Olympics our membership support goes up. It's tripled since April, when we started posting 2,000-word articles.
But then there's the matter of our historical tone split. From the start, there's always been a difference between Serious TMM and Fun TMM. So here's what we're doing: our #longreads articles and interviews will always be free, but we'll be adding a more casual-oriented premium "newsletter-y" post into the mix. Access will be limited to those of you who subscribe at the GOLD™ level or its equivalent ($10 per month). It will include tinier and more immediate stories about global basketball, mailbags, and maybe even songs and cartoons.
We'll being Going Meta all the damn time. We'll start out with one of these a week, and adjust the frequency as we go, to match your response. The first one will drop this Friday.
Substack can't really help us with that either. We can't make some of our content premium, like every medium- and large-sized podcast does these days, unless we switch away from the Bally Club and make everyone resubscribe to Substack's proprietary payment system. Signing our lives completely over to this company is an absolute non-starter. Having to deal with PayPal is bad enough.
If you're supporting TMM at the $1/month level, and a lot of you are, we're not trying to force you to do anything you don't want to do. Your support is what's keeping the website up and the hosting bills paid, and we're eternally grateful that you've made us a priority in this most 2020 of 2020s. But just so you know: our PayPal was reclassified as a "business account" back in April once the subscriptions started picking up, so a full one-third of your subscription is now subsidizing the Phoenix Suns' jersey patch.
Speaking of a NBA team that's been trying to rebrand as a three-letter airport code, you've probably noticed that we're been using our initials much more often lately—as well as the single Avenir italic lowercase m that's been our virtual trademark since 2004—as our primary identifying identity. We've also simplified our domain name to tmm16.com and changed our Twitter handle to @tmmhoops.
You've had six months to come to grips with the fact that we're not The Mid-Majority anymore, and not in the business of pimping your favorite men's college team. If there's any constant in the post-postmodern world, it's constant disappointment. People are disappointed in us for growing up, we're disappointed in Substack for not being open source, you're disappointed in something. (Please spill.) But if you're still here, and you are, it's time for us to all hold hands and move forward into the future.
Our half-year journey as a Substack newsletter, which began on January 1, has been a valuable and illuminating experience. "There would be no point in coming back if we didn't feel like there was something new to say," we wrote at the time, and we've sent you tens of thousands of words' worth of new things since then.
But those words shouldn't be in your inbox next to the Groupons and App Store receipts. The web is where serious text belongs, and it's where we belong. So let's go home.